ARTIFICIAL INTELLIGENCE IN THE TEXTILE INDUSTRY
Ключові слова:
artificial intelligence, Cognex, expert systems, pattern recognition
Анотація
Artificial intelligence and expert systems are successfully used in many types of industries. The work shows that the implementation of these systems provides a number of advantages. The necessity of introducing artificial intelligence systems into production within the framework of the Industry 4.0 concept is substantiated. The main directions of the development of artificial intelligence systems in the textile industry, and the advantages and disadvantages of various approaches are described.
Despite a number of examples of the use of these systems in light industry, their potential has not yet been fully exploited. One of the reasons for the limited use of such systems in the textile industry is the specific areas of expertise and know-how in the industry.
Competitiveness is a key factor in this industry. It is obvious that modernization should be aimed at reducing costs and increasing production. This is usually achieved through lower labor costs and increased levels of automation. However, the experience of the craftsmen who have worked in this sector all their lives cannot be easily automated. This information is usually lost if no effort is made to store knowledge and experience in a specialized system. It is emphasized that the choice of configuration for each system will depend on a number of factors. Such systems should be developed by information technology specialists in conjunction with experts in the field.
The work proposed the structure of an express examination system, where examination functions are assigned to a system based on artificial intelligence, with which portable devices (clients) are connected via a network. It is proposed to use such devices personally (the buyer in the store), at enterprises (clothing stores, textile production), in government agencies (customs service). In each of these cases, the system can have specialized adapted functionality: paid and free services, open and confidential databases, advertising services.
The research results should contribute to the introduction of new quality control systems for textile products, which will improve the quality of products on the market, which ultimately will contribute to the recovery of the Ukrainian economy.
Посилання
Carvalho, V., Soares, F., & Vasconcelos, R. (2009). Artificial Intelligence and Image Processing Based Techniques: A Tool for Yarns Parameterization and Fabrics Prediction. Proceedings of the IEEE Conference on Emerging Technologies & Factory Automation (Spain, Palme de Mallorca, September 22-25, 2009), pp. 1-4. DOI: 10.1109/ETFA.2009.5347255.
Neves, J. (1968). A Irregularidade dos Fios Têxteis, Sua Origem, Medição e Análise. Oporto.
Carvalho, V. (2008). Automatic Yarn Characterization System. (PhD Thesis), Braga: Minho University.
Salhotra, K. R. (1990). Fancy Yarn Manufacture-The Changing Scenario. The Indian Textile Journal. 101, 30-34.
Shamey, R., & Hussain, T. (2003). Artificial Intelligence in the Colour and Textile Industry. Review of Progress in Coloration and Related Topics. 33, 33-45. DOI:10.1111/j.1478-4408.2003.tb00142.x.
Omelchuk A. A., Lahovskyi V. V., & Hnatiuk S. S. (2020). Portatyvni zasoby dlia ekspres-ekspertyzy produktsii za dopomohoiu spektralnoho analizu. Proceedings of the VIII Vseukrainskoi naukovo-praktychnoi konferentsii studentiv, aspirantiv ta molodykh vchenykh z avtomatychnoho upravlinnia prysviachenoi Dniu kosmonavtyky. (Ukraine, Kherson, April, 08-10, 2020). Kherson: Vydavnytstvo FOP Vyshemyrskyi V.S., pp. 58-59.
Zimmerleiter, R., Reischer, T., Koppensteiner, R., Roßbory, M., & Brandstetter, M. (2019). Inline Measurement of Formaldehyde Concentration in an Industrial Production Plant by NIR Microspectrometer Technology. Proceedings of the Herbstkolloquium Prozessanalytik (Germany, Marl, November 25-27, 2019). DOI:1-710.13140/RG.2.2.20282.34249.
NIRONE SENSOR S. Theremino System. Retrieved from: https://www.theremino.com/en/downloads/automation (дата звернення 19.03.20).
Theremino Spectrometer Documentation. SPECTRAL ENGINES. Retrieved from: https://www.spectralengines.com/products/nirone-sensors (accessed 19.06.20).
COGNEX ViDi SUITE. Deep Learning-based Industrial Image Analysis. Cognex Corporation. Retrieved from: https://www.cognex.com/products/deep-learning/visionpro-vidi (accessed 19.06.20).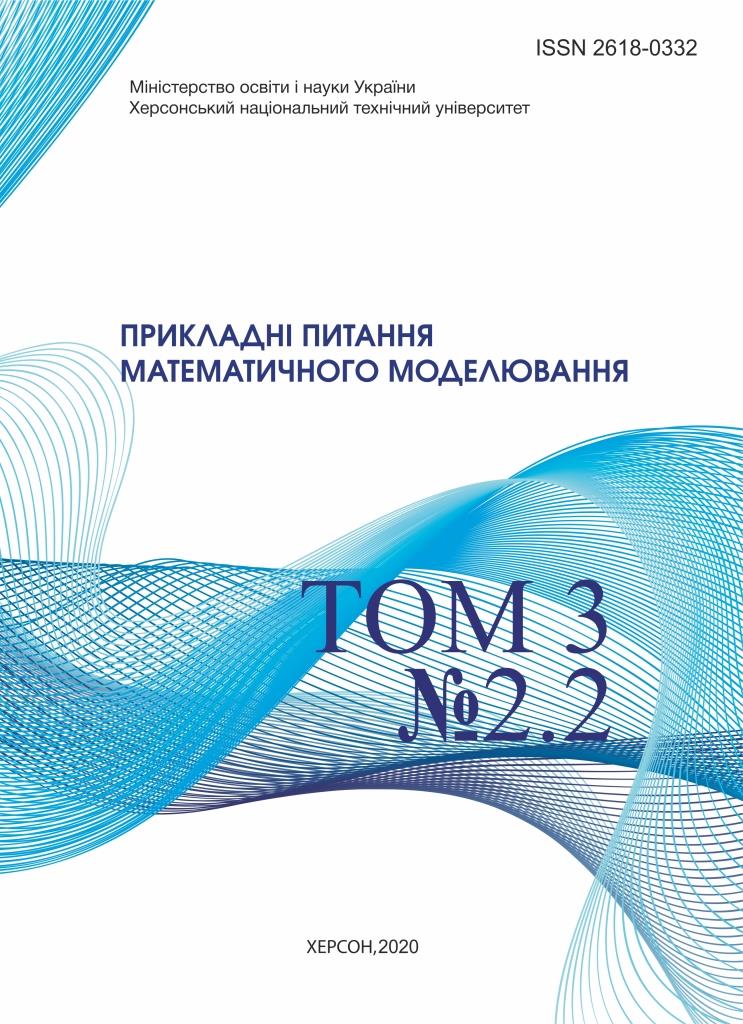 ##submission.downloads##
Як цитувати
HORBOVYY, A. ., LAGOVSKYY, V. ., & OMELCHUK А. . (2020). ARTIFICIAL INTELLIGENCE IN THE TEXTILE INDUSTRY. APPLIED QUESTIONS OF MATHEMATICAL MODELLING, 3(2.2), 123-132. https://doi.org/10.32782/KNTU2618-0340/2020.3.2-2.11