STRUCTURAL-PARAMETRIC GEOMETRIC MODELING OF THE FINISHING CONSTRUCTION WORKS OF THE MANOR-TYPE HOUSES
Ключові слова:
manor-type house, finishing works, structural-parametric geometric model, BIM-technologies
Анотація
One-apartment low-rise manor houses located on separate plots of land and intended for summer use, are very popular today. This is due to the expansion of private construction in market conditions, the wish of people to be closer to nature in their free time.
The desire of many customers of architectural forms to take into account their personal requirements, which are limited only by the relevant financial capabilities, is particularly important. The described circumstances require designers to carry out multi-criteria optimal modifications of the processed objects. This is a certain problem. BIM (Building Information Modeling) technologies, i.e. means of automated building information modeling, contribute to its successful solution. Examples of such systems are domestic SAPFIR and LIRA-SAPR, foreign ArchiCAD, Allplan, Revit, etc., which improve the quality of design, construction and operation of architectural objects, reduce costs throughout their entire life cycle.
Flexible, realistic and productive computer parametric solid-state shaping of building structures ensures the achievement of this goal. Many scientific researches substantiate the advantages of the described approach and make better its methods, techniques and algorithms. Now the School of Applied Geometry of the Kyiv National University of Construction and Architecture also pays appropriate attention to the analyzed issues. So, in particular, a number of publications have been made to improve the presented methodology by generalizing it to structural-parametric geometric modeling. The latter consists in the implementation of a comprehensive, i.e. in the aspect of several disciplines, for example, such as architecture, construction, technology, operation, economics, etc., and integrated, i.e. throughout the entire life cycle, optimal design of a technical object due to an effective combination of several its variant parametric models.
The article is based on previously published works with the author's participation, devoted to the methodological and mathematical foundations of structural-parametric shaping in construction, contains their real practical implementation in the Revit system on the example of finishing works of a manor-type house.
Посилання
Barabash, M. S. (2014). Kompyuternoe modelirovanie protsessov zhiznennogo tsikla ob'ektov stroitelstva: Monografiya. Kiev: Stal.
Barabash, M. S. (2013) Programmnyie kompleksyi SAPFIR i LIRA-SAPR – osnova otechestvennyih BIM-tehnologiy: Monografiya. Moskva: Yurayt.
Lantsov, A. L. (2009). Kompyuternoe proektirovanie v arhitekture. ArchiCAD 11. Moskva: DMK-Press.
Nekrasov, A. V., & Sryibnyih, M. A. (2014). Allplan 2014. Pervyiy proekt ot eskiza do prezentatsii. Ekaterinburg: Uralkomplekt-nauka.
Aubin, P. F. (2015). The Aubin Academy Revit Architecture, covers Version 2016 and beyond. Oak Lawn: G3B Press.
Ploskyi, V.O., Rehida, O.V, & Tereshchuk, M.O. (2018). Kompiuterne heometrychne modeliuvannia yak zasib pidvyshchennia efektyvnosti arkhitekturno-budivelnoho proektuvannia. Shliakhy pidvyshchennia efektyvnosti budivnytstva v umovakh formuvannia rynkovykh vidnosyn. 37, 37–46.
Rehida, O. V, & Tereshchuk, M. O. (2020). Deiaki perspektyvy rozvytku suchasnoho kompiuternoho budivelnoho modeliuvannia. Upravlinnia rozvytkom skladnykh system. 42, 111–116.
Rehida, O. V. (2020). Do pytannia rozroblennia metodyk ta alhorytmiv strukturno-parametrychnoho modeliuvannia budivelnykh obiektiv. Prykladni pytannia matematychnoho modeliuvannia. 3, 1, 178–186. DOI: https://doi.org/10.32782/2618-0340/2020.1-3.18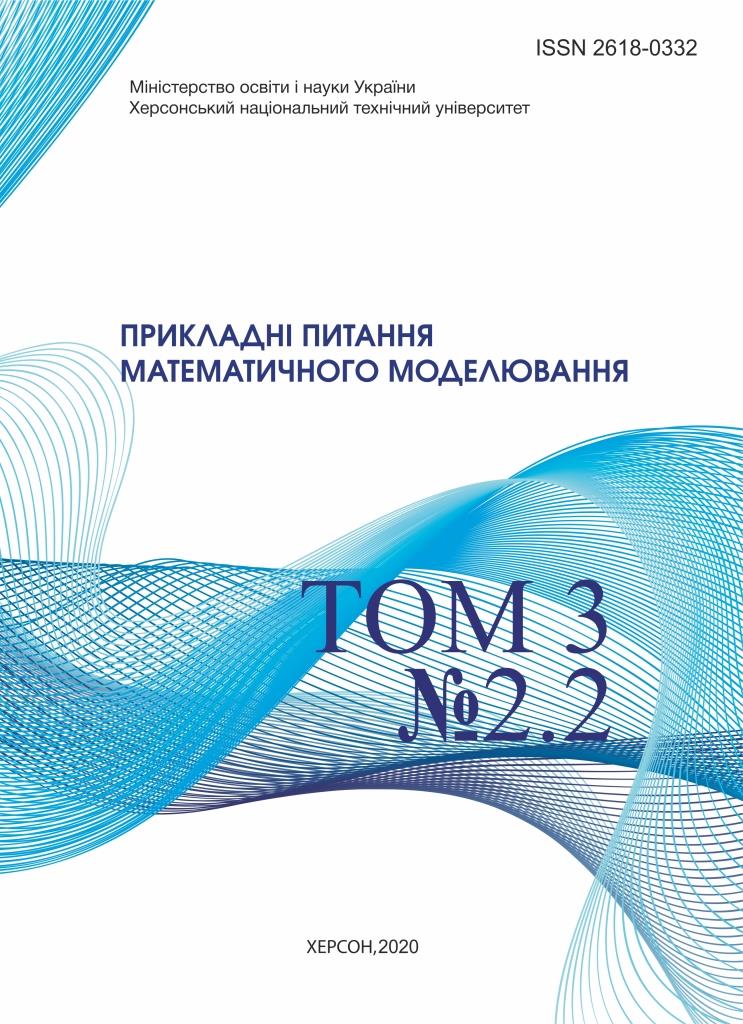 ##submission.downloads##
Як цитувати
REGIDA, O. . (2020). STRUCTURAL-PARAMETRIC GEOMETRIC MODELING OF THE FINISHING CONSTRUCTION WORKS OF THE MANOR-TYPE HOUSES. APPLIED QUESTIONS OF MATHEMATICAL MODELLING, 3(2.2), 235-242. https://doi.org/10.32782/KNTU2618-0340/2020.3.2-2.23